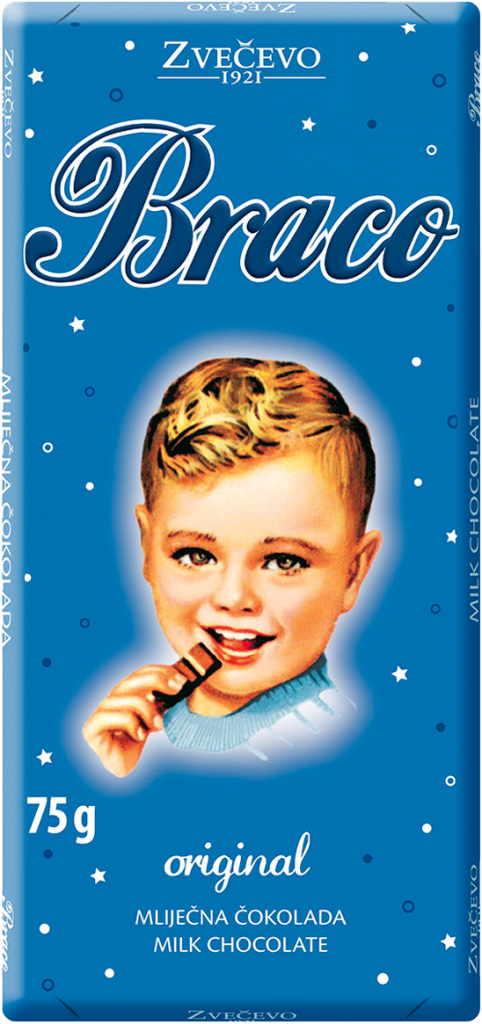 This milk chocolate has a high proportion of milk of the highest quality, and fresh milk and aromatic types of cocoa are used in production, and of course everything is processed according to a special Zvečevo process.
Braco chocolate has been part of the memory of the whole of Croatia since the early 60s of the happy and smiling face of a boy eating fine chocolate. The same Braco is still happily smiling from the cover of the oldest living Croatian chocolate brand, only in a new, more modern guise.
Ingredients: sugar, cocoa butter, whole milk powder, cocoa mass, skimmed milk powder, emulsifier: soy lecithin; natural vanilla aroma. Milk chocolate contains: cocoa parts 30% min., milk parts 23% min. May contain peanuts, almonds, hazelnuts, eggs and gluten. Country of origin of cocoa mass and milk powder: EU and non-EU.       
Nutritional value per 100 g
Energy (kJ / kcal)
2279 kJ / 544 kcal
of which saturated fatty acids (g)
19.65 g
of which sugars (g)
55.28 g